Insättning med Paysafekort
Paysafekort tillåter dig att göra en insättning till ditt QueenVegas konto. Det är ett säkert, enkelt och anonym metod. Paysafekort är tillgängliga på många olika platser, bensinstationer, kiosker, Mobiltelefon- och el- affärer, post kontor bokhandlare och banker med flera.
It is quick, easy and safe. You don\'t need a credit card or a bank account. By choosing Paysafecard you\'ll be getting the safest, simplest solution going: that\'s because Paysafecard is a prepaid card that lets you pay on the internet. Paysafecards can be purchased at values of 10, 25, 50, and 100 EUR.
Om den totala summan av din betalning överstiger ditt korts värde kan du enkelt betala resterade summa enkelt med nästa paysafekort. För en enskild betalning så kan du kombinera upp till 10 stycken kort vilket tillåter dig att att använda kvarvarande kredit på dina paysafekort.
Paysafecard is every bit as simple as cash. You don\'t need a bank account or a credit card. That\'s because Paysafecard is a prepaid voucher that you can buy from local shops and use to pay for online transactions on the internet.
It\'s as easy as 1-2-3!
To find out more about Paysafecard please visit //www.paysafecard.com/pos. The site has multiple languages to choose from.
För att göra en insättning med ditt paysafekort behöver du välja paysafekort från dom tillgängliga betalningsmetoderna i Euro och din bonuskod (om du har en).
You will then be redirected to Paysafecard\'s website where you need to enter the individual PIN from your Paysafecard. This is very simple–see the screenshot below: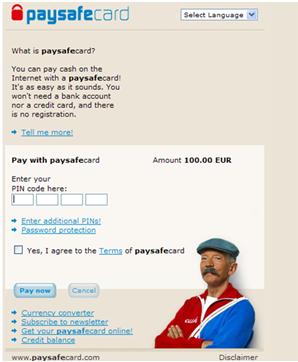 Tillgänglighet beror på ditt land