Открыть счёт в WebMoney
WebMoney это онлайн кошелек, позволяющий быстро открыть счет и немедленно его пополнить для последующего внесения депозита на QueenVegas.
Как только ваш WebMoney счет будет зарегистрирован и пополнен, вы сможете немедленно внести депозит на QueenVegas.com и начать игру.
If you need additional help, click here to access the Help Desk page on their website.
Для связи с технической поддержи по емайлу воспользуйтесь следующим адресом support@wmtransfer.com.
You can also contact the WebMoney technical support call center. You can find this on their Contact page on their site.
Ниже предложен список номеров международных информационно справочных служб WebMoney:
+7 (495) 727-43-33 – Moscow.

+7 (812) 336-43-18 – St. Petersburg.

+1 (212) 202-66-06 – United States.

+44(203) 239-60-39 -UK.
Инструкции
Start by going to //www.wmtransfer.com and select your desired language from the top right hand corner. Once you are ready press the "Sign Up Now" button.

4 шага для того что бы открыть счёт в WebMoney. Первый – заполнение страницы с информацией о вашем счёте.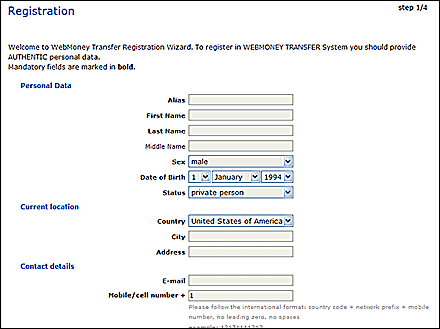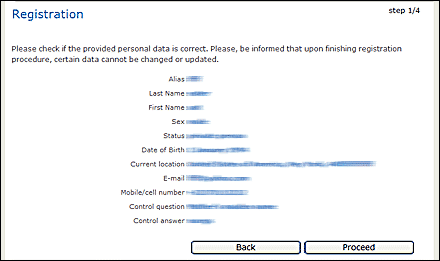 Примите во внимание, что для успешного открытия счета необходимо предоставить правильную информацию.
Второй шаг это введение кода регистрации, который был прислан на ваш емаил указанный при регистрации. Как только код будет подтвержден, вы будете перенаправлены на страницу мобильной верификации.

This page contains instructions for sending an SMS from your phone for Mobile/cell verification.
Please wait for confirmation to proceed.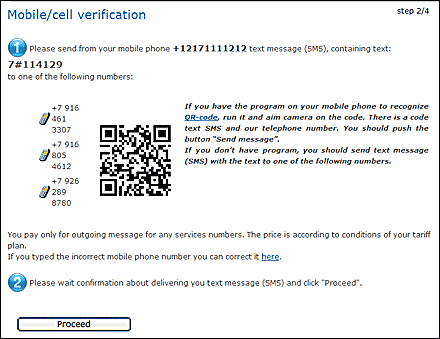 Once your SMS has been received we will send you a confirmation message.
Как только ваше СМС будет доставлено, вы получите сообщение с подтверждением, после чего необходимо будет кликнуть на "Продолжить" для создания счета и окончания процесса регистрации.
Доступность зависит от вашей страны